update post #9 changed to a 1.95" pulley This can probably be done on other models (1900, 112, 122). We removed the original idler pulley just below the throttle body and relocated it giving more contact of the belt on the snout pulley. We removed the two bolts from the mount that the pulley was bolted to, drilled and taped a new hole further down and to the right side (towards the snout pulley). We also replace the original pulley with a Dayco 89074.
Since this mod, we have taken it a step further and moved the pulley location further and now using a ProCharger 2.3" pulley.
Note, the pulley's I used are wide enough to accommodate the 8 rib setup I am using. I mention this in case your still using the stockers. Also, I am not taking claim for this idea, it is one that Thomas Hendrix shared with me, that he and others have been doing for a while.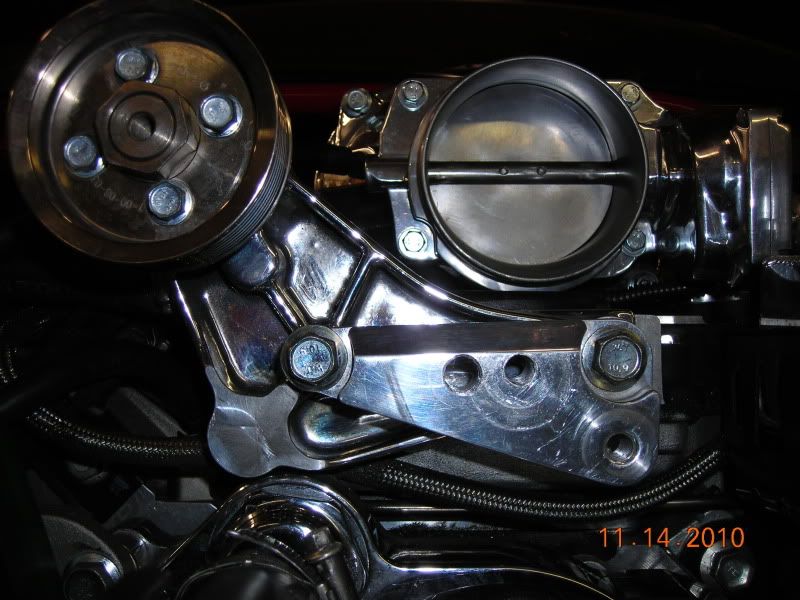 __________________
.
mods.... yep I've done them!
427 TVS2300 Killer Chiller Meziere ETP 245 Lonnie's twin pump system Hendrix-Engineering 8.8 LSPWR mini tubbed with 315's. Converted from M6 to a 4L80E built by FLT Yank SC3000